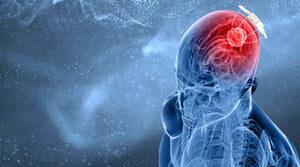 GBM Technology
---
Electrotherapy helps patients with glioblastoma multiforme (GBM) by disrupting tumor mitosis
National Cancer guidelines now include alternating electric field therapy following maximal safe resection and standard brain radiation therapy with concurrent temozolomide as a Category 1 recommended treatment option for patients with newly diagnosed supratentorial glioblastoma. Electrotherapy for GBM typically improves overall survival (OS) by 5-6 months with daily at-home therapy.
Hyperthermia also improves GBM overall survival but requires cumbersome hospital equipment
A 2019 study of 149 patients using noninvasive modulated electrohyperthermia (mEHT) for GBM demonstrated an improvement in overall survival (OS) of 5 months versus best supportive care. In contrast to 17 hour per day electrotherapy, mEHT patients only receive 2 - 3 one hour sessions per week.
Hyperthermia selectively targets hypoxic tumor cells and triggers an immune response
Tumors
 cells are particularly sensitive to heat because of their acidic and hypoxic microenvironment due to active glycolysis, with the tumor center being the most vulnerable.
 Hyperthermia is also recognized to regulate several aspects of the immune response, and may enhance tumor cell cytotoxicity through enhancing activity of various transcription factors.
Our device applies daily hyperthermia with advanced non-invasive technology while also applying electrotherapy

 The proprietary therapy has been validated in-vitro for intracranial hyperthermia (2-3
°
C) and electrotherapy
without causing skull overheating (<
3
°
C)
. We are currently carrying out additional preclinical safety studies in preparation for a pilot clinical study.

Patients simply switch ON and therapy programs cycle automatically with a surface temperature auto shut-off safety feature
 Other features include LED battery light indicators, under/overcharge battery protection, an integrated surface cooling system, and an easy-to-use application head.
The discreet design will help patients live more comfortably and the technology will help them live longer